4-wheel drive + 3 steering systems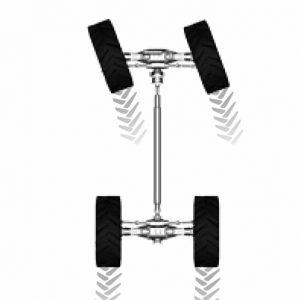 2 front steered wheels to guarantee road safety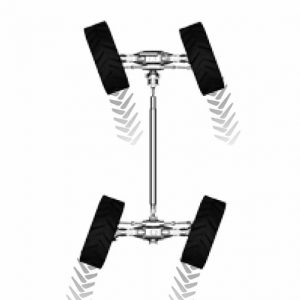 4 steering wheels for manoeuvres in construction sides with little space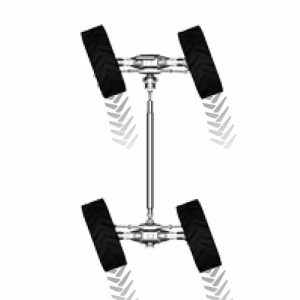 Grab steering for side approaches and delicate manoeuvres
360∘ view, all the time
The Queen Cab is a cabin which provides the driver with maximum visibility thanks to its anti-glare glass surface expanded by 20%.
You have an excellent view the entire working area thanks to the large glass surfaces and uninterrupted and frontward extended windshield. Rear angles which are difficult to see are kept under control by a mirror on the right side of the machine.
Always pleasant conditions.
An air conditioning, heating and ventilation system allow you to work comfortably 365 days a year.
On hot and cold days, the operator can easily adjust the temperature conditions inside the cabin according to his requirements.
Easy and quick maintenance
Cabin designed to facilitate maintenance: the floor of the Queen Cab can easily be removed for cleaning

360∘ view
Standard front and rear LED work lights with high lighting capacity
Document pocket
Bottle holder
Cabin compliant with EC, ROPS and FOPS regulations
Queen Cab
of the Middle Range
More comfort, maximum visibility and precision manoeuvring for best performance
This makes work simple and productive
Queen Cab is designed to promote the
maximum comfort, efficiency
and
visibility:
everything is under control. It is supplied with an anatomic seat with adjustable armrests and an adjustable steering wheel according to the driver's height. This allows every operator to enjoy the maximum ergonimics during work.
Everything is under control
The cabin guarantees the maximum manoeuvring precision of the telescopic handler, also thanks to a new control panel including a dashboard with
intuitive multi-purpose colour LCD display.
The new
joystick provides you with millimetric control of the boom and allows you to command the forward movement of the machine.
On demand, the supply can be completed with a Bluetooth interface radio and pneumatic suspension seat.


Joystick with palm rest
Adjustable steering wheel and seat
Ergonomic seat
Multi-purpose LCD colour display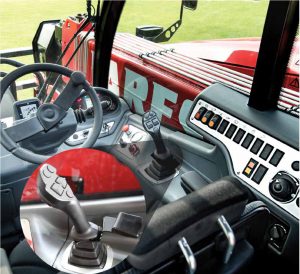 Specs and features Middle Range
| | | | | |
| --- | --- | --- | --- | --- |
| Configuration | Classic | Agri Top | GLS | VPSe |
| Transmission | Hydrostatic up to 30 km/h | Hydrostatic with mechanical gearbox up to 40 km/h | Hydrostatic with mechanical gearbox up to 40 km/h | Continuous Variation at 40 km/h |
| Engine (kW/HP) | 74/101 Deutz Stage IIB Common rail 3600 cm3 | 74/101 Deutz Stage IIB Common rail 3600 cm3 | 90/122 Deutz Stage IIB Common rail 3600 cm3 | 90/122 Deutz Stage IBB Common rail 3600 cm3 |
| Post-treatment system | DOC | DOC | DOC | DOC |
| Service pump (l/min) | Gears 120@230 bar | Gears 120@230 bar | Load sensing 152@250 bar | Load sensing 152@250 bar |
| Towing force (daN) | Up to 5840 | Up to 7920 | Up to 7920 | Up to 11190 |
| Front and rear LED lights | Standard | Standard | Standard | Standard |
| Ecofast | - | - | Standard | Standard |
| Creeper | - | - | Standard | Standard |
| Floating boom | Optional | Optional | Optional | Optional |
| Boom suspension | Optional | Optional | Optional | Optional |
| Pneumatic/Hydraulic Trailer Brakes | Optional | Optional | Optional | Optional |
| Front Constant Flow | - | - | Optional | Optional |
| Cabin | Queen cab | Queen cab | Queen cab | Queen cab |
| Air conditioning | Optional | Optional | Standard | Standard |
| Joystick | Mechanical electro-proportional | Mechanical electro-proportional | Hydraulic electro-proportional | Hydraulic electro-proportional |
| Manual 6-way diverter | Optional | Optional | Standard | Standard |
| Rear hydraulic connection with dual electro proportional effect | - | Standard | Standard | Standard |
| Rear trailer lights socket | - | Standard | Standard | Standard |
| Engine water pre-heating | Optional | Optional | Optional | Optional |
| Quick coupling | Standard on 7.30E | Standard on 7.30E | Standard | Standard |
| Electric 6-way diverter with PEB | Optional | Optional | Optional | Optional |
| PEB | Optional | Optional | Optional | Optional |
| Tyres 405/70 - 20'' | Standard | Optional | Optional | Optional |
| Tyres 405/70 - 24'' | Optional | Standard | Standard | Standard |
| Tyres 445/70 - 24''R | Optional | Optional | Optional | Optional |
| Wheels external turning radius (mm) | 4150(405/70-20'') | 4150(405/70-24'') | 4150(405/70-24'') | - |
| Version TR | - | | 3870 (405\70-24) | 3870 (405\70-R24) |
| Version HS 40km/h | Optional | Standard | Standard | Standard |
| Shovel mode | Standard | Standard | Standard | Standard |
Models Middle Range
| | | | | | | |
| --- | --- | --- | --- | --- | --- | --- |
| Models | 7.30 | 7.35 | 7.45 | 8.40 | 9.30 | 11.35 |
| Maximum total unladen weight (kg) | 8050 | 8050 | 8650 | 8800 | 8850 | 9150 |
| Number of extracting sections | 1 | 1 | 1 | 1 | 1 | 2 |
| Max capacity | 3000 | 3500 | 4500 | 4000 | 3000 | 3500 |
| Max lifting height (m) | 7.1 | 7.1 | 7.1 | 8 | 9 | 10 |
| Max horizontal boom extension (m) | 3.6 | 3.6 | 3.6 | 4.5 | 5.5 | 6.5 |
| Boom extension at max height (m) | 0.2 | 0.2 | 0.2 | 0.4 | 0.8 | 1.1 |
| Swinging angle of forks (°) | 144 | 144 | 144 | 144 | 144 | 144 |
| Hydraulic oil tank | 150 | 150 | 150 | 150 | 150 | 150 |
| Diesel oil tank (l) | 120 | 120 | 120 | 120 | 120 | 120 |
Dimensions Middle Range
| | | | | | | |
| --- | --- | --- | --- | --- | --- | --- |
| Dimensions | 7.30 | 7.35 | 7.45 | 8.40 | 9.30 | 11.35 |
| Height | 2540 | 2540 | 2540 | 2540 | 2540 | 2540 |
| Width | 2368 | 2368 | 2368 | 2368 | 2368 | 2368 |
| Gauge | 1900 | 1900 | 1900 | 1900 | 1900 | 1900 |
| Ground clearance | 390 | 390 | 390 | 390 | 390 | 390 |
| Front overhang | 1008 | 1008 | 1008 | 1426 | 1997 | 1391 |
| Pitch | 2950 | 2950 | 2950 | 2950 | 2950 | 2950 |
| Rear overhang | 821 | 821 | 821 | 821 | 821 | 821 |
| Length without tow hitch | 4779 | 4779 | 4779 | 5197 | 5768 | 5162 |
| Length with tow hitch | 4849 | 4849 | 4849 | 5267 | 5838 | 5232 |
| Cabin width | 4779 | 4779 | 4779 | 5197 | 5768 | 5162 |
Maximum lifting capacity from 3 t to 4.5 t
Maximum height 7 m to 11 m
The Middle Range has 24 configurations ideal for construction companies seeking a ductile machine that, thanks to new applied technologies, ensures management savings and high performances
FARESIN TELEHANDLER
Middle range